"You don't stop laughing when you get old,
you get old when you stop laughing"
Artificial Horizons: Aero-Toonz & Other Nonsense
A not-so-accurate
HISTORY OF FLIGHT

(Click Image)

AVAILABLE IN PRINT!
(you know, that old-fashion
medium called "books"):
Available through
Amazon.com
with bonus content!



---

**NEW FEATURE**



---
Other Features:
.
Brought to you by: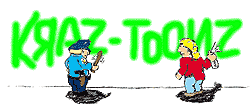 All Content Copywrite Protected 2019, Kraz-Toonz, Keith Krasnowski